A Simple Guide to Pocket Squares
The pocket square is a cultural relic. In ancient Egypt, nobles wore pocket squares made of Chinese silk. Later, Greeks carried perfumed cotton cloths to remove sweat, creating an ancient antiperspirant. In Medieval Europe, knights would carry handkerchiefs close to their chest as proof of a lady's favor.
Pocket squares have been integral to cultures across millennia. Although they trace back to ancient Egypt, the pocket square is a modern wardrobe staple. They're tucked into the pockets of modern style icons, real and fictional. Every James Bond has worn one, and John F. Kennedy (perhaps the most stylish president) was rarely seen without one adorning his suit. Today's pocket square is more about style than utility, but it makes a big difference in an outfit.
Why Wear a Pocket Square?
Pocket squares polish an outfit without making you look like you care a lot about your appearance. After all, you are the focus—not your clothes. It can also make a good suit look even better. A pocket square in a solid color tones down a patterned suit. Worn with a solid suit, a patterned pocket square (or a solid one in a contrasting color) makes the outfit more interesting.
Pocket squares fit every man's lifestyle. They're formal enough for a black-tie event but casual enough for happy-hour drinks. It all depends on how you style it. The three essentials of pocket squares are shape, color, and pattern.
Shape: Ways to Arrange
There are dozens of ways to arrange a pocket square. Below are the most basic folds: flat, loose, puff, and peak. You may hear these shapes under different names, but these styles surpass trends. They've been around for generations, and they won't leave anytime soon.
Flat. The flat pocket square looks like a trim rectangle peeking out of a suit pocket. Fit for black-tie events and boardrooms, this look is more formal. Mad Men's enigmatic Don Draper always wore one.
Loose. The loose pocket square is just like the flat, but a bit unfinished. It's best for casual outfits, like a blazer and chinos. You can find loose pocket squares in a trendy restaurant. James Bond tops his suit with this style—polished, but not prim.
Puff. The puff pocket square is a rounded poof. It adds a little finesse to your formalwear and is a common sight at weddings. The on-screen Jay Gatsby was a fan.
Peak. The peak pocket square is a sharp triangle. This style looks a bit nostalgic; it was a popular choice in the 1960's. John F. Kennedy was rarely seen without a white peak in his suit jacket.
Color: What Goes (And What Doesn't)
Generally, the color of your pocket square should contrast with the color of your suit jacket. For example, you should avoid pairing a dark blue pocket square with your navy blazer. You can, however, match the pocket square with your tie. It looks even better if your tie complements the square but doesn't match perfectly. That way, you look like you threw on whatever was in your closet and still ended up looking sharp. Below, you can see which pocket squares work (and which do not) with patterned, dark, and light suits.
Pattern: A Balancing Act
Like its color, the pattern of your pocket square should contrast with the pattern of your suit. If you're wearing an outfit with a lot of pattern (like a glen plaid sport jacket), a solid square simplifies your look. If your outfit has little to no pattern (such as a navy suit), adding a patterned pocket square makes the ensemble more interesting.
We prefer simple pocket squares: either a solid color or white with a colorful trim. For any of the examples below, you can swap out the color-trimmed fabric with a pattern, such as a stripe or plaid. Our favorite pairings include: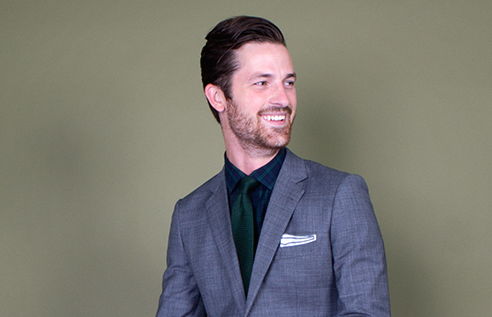 Take this guide as a starting point. There are plenty more shapes, colors, and patterns for you to try. Pocket squares are one of the most versatile wardrobe staples, and they can improve an outfit tenfold. They add a touch of personal taste to an sport jacket, and they make a good suit look even better. Try one, and you'll be among men who have dressed sharp through the centuries.